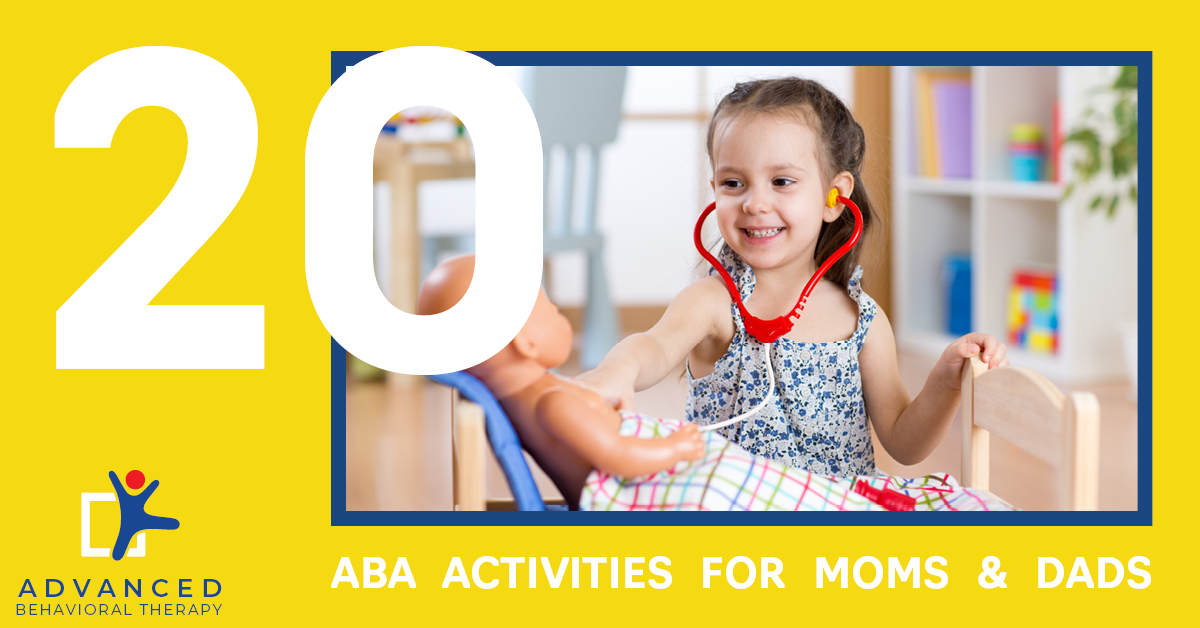 We're definitely proponents of getting your child with ASD the therapy they need (after all, that's what we do). But the reality is, what a therapist does with your child the occasional times they are with them is NOT enough. All therapies, and especially ABA therapy, are most effective when the behaviors and life skills taught in the therapy session are also practiced at home.
Here are 20 activities you can do at home with your child to do exactly that:
Community helpers. Introduce your child to various community helpers through dress-up play, books, or imaginative play using Little People or a similar toys. Teach your child about the job of each community helper, where your child might see them, and answer any questions they may have. To bring it up a level, you can even take your child to meet the community helpers, including a fireperson, mailperson, policeperson and more.
Play date. Set up a play date with your child's therapist, and another child and their therapist. Have the children practice the social skills and play skills they've learned in therapy. You can set up this special kind of play date in a public setting, such as a playground, or in your home.
Taking turns. Have your child play a game with some of their friends or siblings which focuses on turn-taking. The other players can model appropriate turn-taking for your child.
Social groups. Speak to your ABA therapist about setting up a social group with your child and some peers who have similar social skills. In a social group, the therapist will teach the children appropriate social skills which they can then practice with the other kids in the group.
Facial expressions. Teach your child to identify the way people are feeling by reading their faces. You can do this through pictures of people with various facial expressions, or by modeling them yourself. Have your child name each expression appropriately before proceeding to the next one.
Appropriate clothing. Use paper dolls and a large assortment of paper clothing to teach your child about weather-appropriate clothing. You can show your child a picture of a specific season, such as a winter landscape, or just call out "winter," and show your child how to properly dress the doll for the weather. When you have covered all types of weather, have your child dress the doll for a specific kind of weather on their own.
Little chef. Let your child learn the basics of cooking by having them help you out in the kitchen. Teach your child the safety rules of cooking, how to measure out ingredients, when to ask an adult for help, and how to keep food safe and free of germs.
Hygiene, self-care and grooming. Show your child a picture of a kid who looks unwashed and unkempt, and another one of a child who is clean and well-groomed. Ask your child why they think the two kids look so different. Next, teach your child about proper hygiene, self-care and grooming. Include basics like showering and washing up several times a day, brushing teeth and more. You can also talk about self-care and grooming, such as using deodorant (if age-appropriate), keeping nails trimmed and clean, and brushing hair daily.
Organizing and cleaning. Purchase some fun, colorful bins for your child's toys and various possessions, label each one clearly (using words for readers, and pictures for non-readers), and help your child organize their stuff. Have your child clean up their rooms on a regular basis using these bins.


Chores. Speak to your child's ABA therapist about chores you'd like your child to do at home on a regular basis. Your child's therapist can set up a chore system with your child, which you can implement at home. The therapist will help monitor the system and verify whether it is working or needs adjustments of any kind.


Reading and reading comprehension. If your child knows how to read, ask their ABA therapist to practice reading during therapy sessions. In addition, you can have the therapist ask questions about the books your child reads to see if your child is following along with the book and can remember details about what they've read. You can do this at home too, by implementing a daily reading time for your child.


Modulating voices. Teach your child to speak and play at an appropriate volume by playing sounds for them at various volumes and asking which ones sound pleasant and appropriate for different settings. You can teach your child about "outdoor voices" and "indoor voices", and explain that noises we make when inside have nowhere to go, and sound a lot louder than the same noises we might make outside.


Homework. If your child has difficulty completing their homework, you can ask their ABA therapist to work on this skill with them during a therapy session. Have the therapist practice skills such as establishing a time in the child's daily schedule for doing homework, preparing supplies the child might need for their work, and how to complete their work in a timely manner.


Basic info. It's important for every child to know their phone number and home address, in case of an emergency. Share this information with your child and have them practice repeating it until they can say it easily.


Personal space. Some children with ASD struggle with spatial awareness and may act inappropriately around strangers, often making them uncomfortable by being in their personal space. Ask your child's therapist about helping your child develop an awareness of personal space and practice this skill at home. Model appropriate space-sharing for your child, and have them role-play with you or by using small dolls so they can truly master this crucial skill.
Therapy is an ongoing partnership between a child's therapist and their parents. By communicating openly with your child's therapist and practicing skills learned in therapy at home, you'll help your child's therapy be more effective so that your child succeed.
However, for the parents of children with ASD, summertime can be especially challenging. The change in the child's daily schedule, lack of a regular routine, as well as travel to unfamiliar places and spending time with extended family who may not understand autism, can all be triggering for the child.
The good news is that with proper planning, you can still enjoy the summer months with your child. Here are five tips to help you and your child have a calm, relaxing and super-fun summer.
Create a daily schedule
With school out, your child may be at a loss with how to fill their time. For a child who may not be proficient at self-entertainment, the empty days can be a meltdown waiting to happen.
Avoid this and keep your child—and yourself—happy by creating a daily schedule for summer days. You can do this together with your child or work on it alone, being careful to fill time slots from wakeup time until bedtime. Allow for free play in small intervals throughout the day and build daily behaviors, such as brushing teeth and showering, into the schedule as well. If your child will be receiving therapy in the summer, be sure to incorporate these sessions into the schedule as well.
When your schedule is complete, hang it in a prominent place where your child can reference it as needed. You may want to hang more than one copy around the house, such as sticking one up on the fridge, and another on the wall in your child's bedroom. If your child is too young to read, use pictures to show activities on the schedule instead of written words.
Having a steady, daily routine will make it easier for your child to adjust to the looser schedule of the summer months.
Evaluate the abilities of your child when planning activities and trips
Before you make any definitive summer plans, take an honest assessment of your child's abilities and threshold of tolerance. It's likely not a good idea to challenge that tolerance during your annual vacation or at the family reunion weekend. Instead, try to choose activities and trips that your child can easily handle. Consider hobbies and interests that your child would love to explore during the school months. Look for ways your child can build on those interests during their expanded free time in the summer. Finally, when planning activities and trips, avoid those that can cause sensory overload and upset your child.
Prepare carefully for trips
Day trips and longer getaways are a fixture in the American summer. As a family with a child on the autism spectrum, you know that things will be a little different for you and that a change in your child's surroundings can be triggering. These tips can help keep things calm on trips:
Prepare your child in advance. Speak to your child about the trip and let them know what to expect before you set out. If possible, show them pictures of your destination so their new surroundings are not a complete surprise. You can even create a schedule for trip day, or for a multi-day vacation so your child knows what to expect throughout the trip.
Call ahead to your destination to see if they can accommodate any sensory concerns. Let them know you have a child with autism and share your child's specific struggles. Some venues will agree to lower the music for a child with auditory sensitivity. Some airlines allow a child with ASD to board the plane before takeoff so they can explore their new surroundings.
Bring comfort. Small comforts from home, such as a favorite blanket, teddy bear, or sensory toy, can go a long way towards making your child into a happy traveler.
Have an emergency backup plan. Be sure to plan for any eventuality during your trip. Bring along any calming medication you may use on occasion. Pack a photo of your child in case they get lost. Think of an alternate outing in case your first choice turns out to be a disaster for your child.
With proper planning, you can enjoy a fun getaway with your entire family.
Communicate with family members ahead of time
If your summer plans include visits to or from extended family members you don't see often, it's best to communicate with them in advance about your child's specific needs and behaviors. For example, you can let them know your child is most comfortable seated on their own chair as opposed to squeezing together with their cousins on a bench. You can tell them that your child prefers not to be hugged or kissed and let them know that you will be bringing your own food for your child, if relevant. The more you communicate in advance, the less room you'll leave for meltdowns and misunderstandings.
Don't neglect practicing academic, social and behavioral skills
School is out, but that doesn't mean it's time to neglect your child's schoolwork. Make sure to build time into your daily schedule for summer homework, or for practicing schoolwork in another way, such as through an educational app or online game. Similarly, it's important to incorporate time for any "therapy homework" your child may need to do at home, such as practicing social and behavioral skills they've learned in therapy.
Summer with a child on the ASD spectrum may look a bit different than it does for families with neuro-typical children, but with some adjustments to expectations and lots of advanced planning, you can enjoy a fun summer vacation with your entire family.